Are Mirror TVs any good? How we make your TV mirror picture perfect.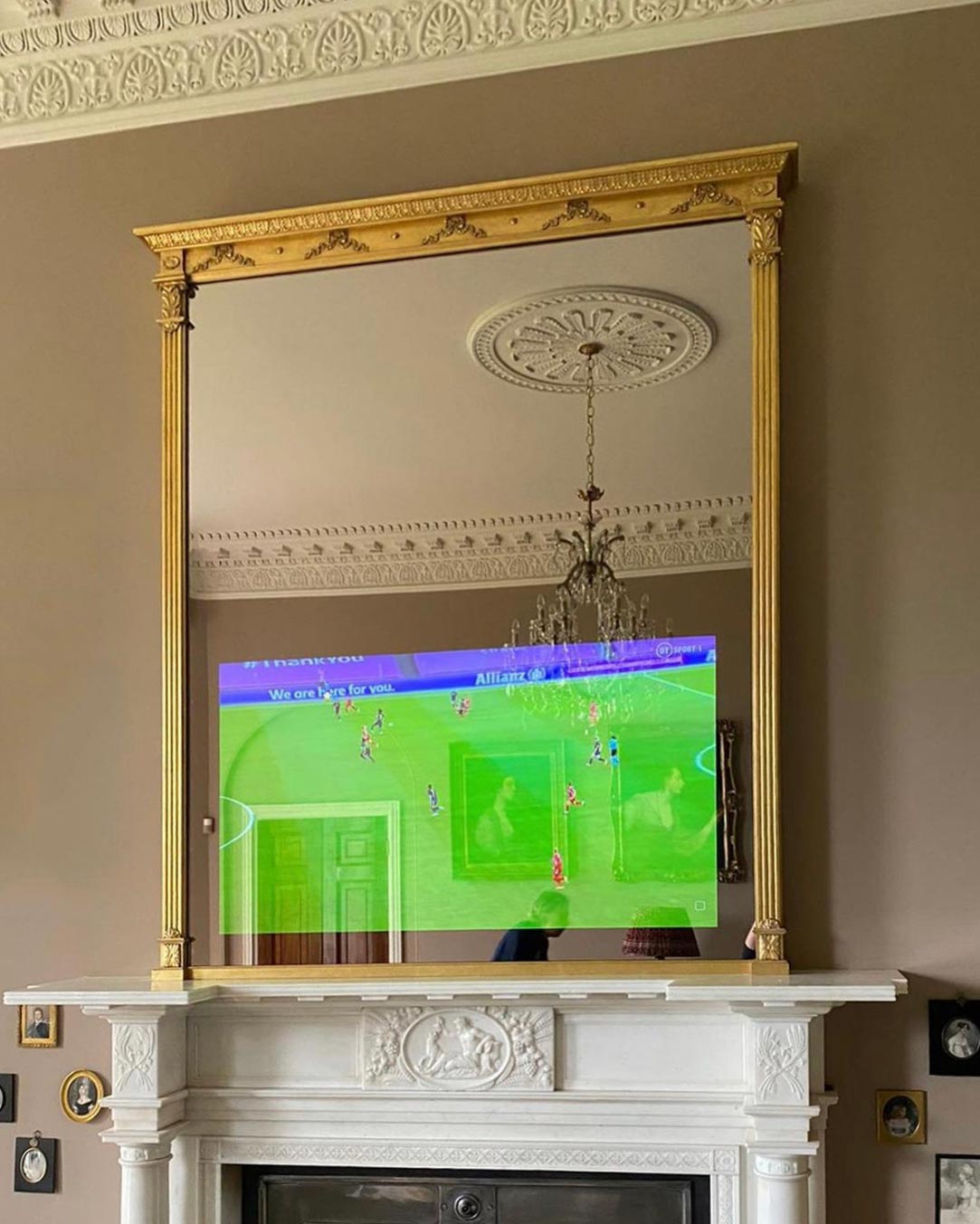 TV mirrors are a fantastic, space-saving solution, as long as you have the right frame and the right picture quality. We often get asked if TV mirrors are any good, specifically regarding the image quality of the TV screen through the mirror glass.
At Overmantels, we pride ourselves on producing high-quality, luxury-level mirrors, from the framing, to the finishing, to the glass – especially so for TV Mirrors. We focus on excellent craftsmanship and materials, selecting only the finest products to use with our mirror frames.
We have been making frames for over 35 years and have developed our TV mirrors to be the best quality on the market.
Overmantels are experts in what we do. Our team of product designers, artisanal craftsmen and white-glove installers combine their skills to deliver the very best TV Mirror for your space – from design, through production, all the way to delivery & installation.
TV quality: What makes the quality so good?
TV mirrors have come a long way since we first developed them. Over the years, Overmantels has continued to improve the image quality by selecting only the best specification of TV Mirror Glass available on the market. We look at two keys factors: Light Reflectance and Light Transmittance.
The aim is to achieve the clearest picture, with minimum reflection when the TV is switched on. We have achieved this by selecting specialist glass which has the right combination of reflectance and transmittance. It is a clever balance of light and engineering, which produces a brilliant TV mirror hybrid, for pixel-perfect viewing.
The ambient light in the installation space is a major factor that affects the performance of the glass. Brighter spaces with a lot of natural light flooding in, such as spaces with very high ceilings and large bay windows, will see more reflections on the surface of the mirror, as more light rays are bouncing off the glass. Smaller, darker spaces, such as a snug or a cinema room, will see fewer reflections, and the screen will appear brighter and more dynamic.
Every space is different, and of course, every client wants the best out of their TV Mirror – to supply the very best product for each client and their particular space, we now offer two different types of TV Glass – Standard TV Mirror Glass, and Ultra High Reflective TV Mirror Glass.
Standard TV Mirror Glass has a slightly tinted appearance and is recommended for rooms with lots of bright, natural light. The darkness of the glass helps to absorb some of this ambient light, making the surface of the glassless reflective, and therefore causing the TV screen to appear brighter. With this glass, you could watch Wimbledon in the middle of the sunniest summer's day, with all the windows wide open, and you would still be able to see the TV screen, bright and true!
Standard TV Mirror glass works beautifully with contemporary mirror designs – the tinted nature of the glass giving a modern edge to these minimalist designs.
Ultra Hight Reflective TV Mirror Glass has a lighter finish, with a slightly bronze tint. This glass looks almost indistinguishable from a true mirror. Due to its high reflectance, this glass bounces the available light around the room, causing a high amount of reflections on the surface of the glass. To get the best out of your TV Mirror with Ultra High Reflective Glass, it's best to have curtains or blinds available for use, should you need to draw them on a sunny day.
Ultra-High Reflective TV Mirror Glass looks stunning in our Regency-style mirrors – the light, bright finish of the glass looks so much like a normal mirror, it helps to encourage the illusion that there is no TV in the room!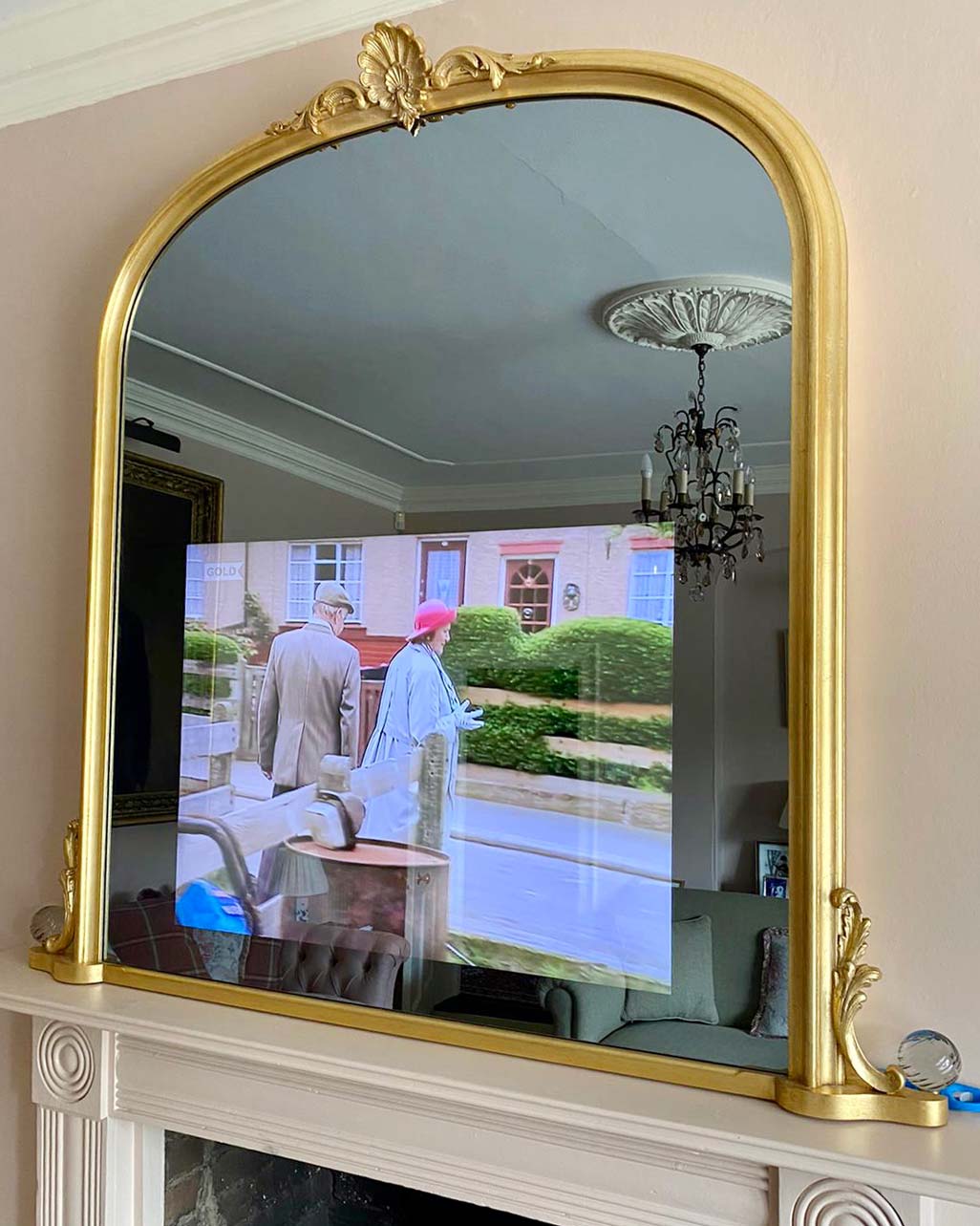 A TV mirror is a clever way to hide your TV, and a hidden TV is brilliant for those who can't decide between practicality and aesthetics – our TV Mirrors can be made-to-measure to suit your space and are the perfect hybrid of elegant decoration and technological wonderment!
If you find TVs unattractive, they can now be covered up and concealed with a stunning TV mirror. Not only will it look absolutely beautiful, but the TV mirror also maximises space and create more light in the room.
The idea for TV Mirrors was born after 30 years of experience delivering and installing mirrors in customers' houses. We so often had customers who couldn't decide between a TV or a mirror over the mantlepiece – so we combined the two!
After years of research and development, the TV mirror was created as the ideal solution to the problem. Our customers could now display a beautiful mirror with a hidden TV inside it. When switched on, the elegant centrepiece suddenly transforms into a home entertainment system!
What frame do you recommend for a TV mirror?
Our showroom team can advise you on your mirror style and size and help you to find your ideal frame. From Art Deco to Modern simplicity, French and English classics, Regency and Louis Philippe styles, Overmantels can assist to find the style to suit your room. See our buyers guide, a simple guide to choosing the perfect mirror, from the fireplace to finishes. Selecting the right TV is an easy and hassle-free process!
SEE OUR BUYERS GUIDE FOR MORE INFORMATION
You may wish to match your mirror to the period of your property: We have several Traditional Victorian, Georgian, Regency styles to choose from. Alternatively, Modern Frames work with both traditional and contemporary homes, they are timeless and elegant.
Overmantels specialise in a bespoke service. We have a Free Design Service to help you visualise your mirror. To opt for the design service, please contact our team. Our expert Design Team Photoshop up to three styles of the mirror to help you visualise them in the space.
What TV do you use and recommend?
Our TV Mirrors are compatible with all modern flat-screen TVs – you can choose from your favourite high-street brands. You can start as small as a 32" screen or go full cinema-size at 98"! The majority of our TV Mirrors fit up to 50" screens, with some accommodating up to a 55" screen. For 65" screens and above, we can create our mirrors in bespoke sizes to suit.
You can use your existing TV, or you can purchase a new one for the purpose – as long as it's flat-screen and fairly new, we can create a TV Mirror to cover almost any TV.
Our TV Mirrors are designed to be easily upgradeable, so that you can keep up to date with the latest TV equipment, without having to change your TV Mirror. The TV Mirror can easily be removed from the wall, exposing the wall-mounted TV beneath. This means that the mirror is future-proofed – if ever you should choose to replace or upgrade the TV inside your TV Mirror, it's very easy to do! All you need to do is remove the TV Mirror from its fixings (lifting and off!) and replace the TV unit on its wall-mounted bracket – as long as the screen size is the same, you're good to go!
We highly recommend Samsung screens – particularly the Samsung QLED and Samsung NeoQLED ranges. Apart from their superior screen and speaker quality, these models come with an incredible variety of applications, featuring all your favourites – Netflix, iPlayer, Apple TV, etc. The new NeoQLED screens with the self-lit pixels add a whole new meaning to the term 'dynamic'! The new models are so incredibly slender, which allows us to keep our TV Mirrors to a minimum depth. The slimmer the mirror, the more it adds to the illusion that there is no TV in the room at all, which is precisely what we are looking to achieve.
Each screen in the Samsung QLED range comes in a range of specifications – from Entry Range, through Mid-Range and up to Top Range screens, featuring 8k resolution. With such a variety of available models, you're guaranteed to find a screen that's right for you.
We can supply Samsung TVs at preferential rates, working alongside our trusted AV suppliers and partners, GSL Installations. Please contact us for our latest TV Price List.