BUYERS GUIDE
ALL OVERMANTELS MIRRORS ARE BUILT TO ORDER ALLOWING YOU UNRIVALLED OPPORTUNITIES TO CREATE YOUR PERFECT PRODUCT
Choosing a Mirror to suit your fireplace
If you have a particular style of fireplace, it can be a little daunting to find a mirror suitable for the period or style. Below are some guidelines to help you decide which style of mirror would best suit your mantelpiece, depending on the era and design.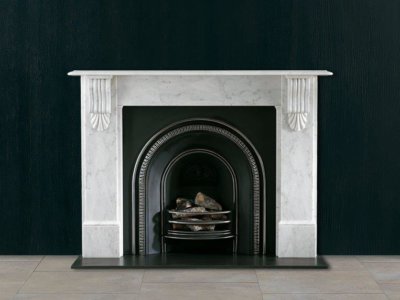 VICTORIAN CORBEL FIREPLACE
An Archtop really helps to finish a Victorian mantelpiece, they were the most popular style of Overmantels for a great many years. The Arched shape of the mirror will complement the Arched metal inserts commonly found in this style of mirror.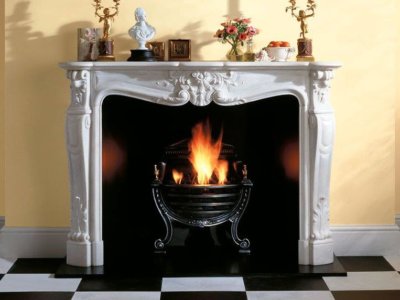 FRENCH STYLE FIREPLACE
This French style of fireplace is more curvy and ornate than many English styles, and can benefit from a slightly plainer style of frame. The frame will not 'compete' with the decorative embellishments of the fireplace.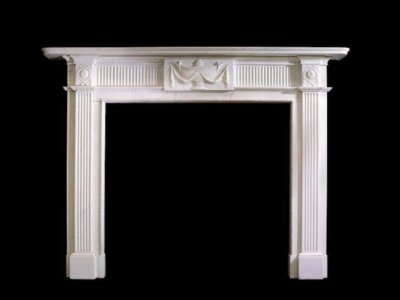 GEORGIAN FIREPLACE
The grandeur and majestic style of these Regency, Georgian and Neo Classical mirrors will perfectly compliment this style of fireplace.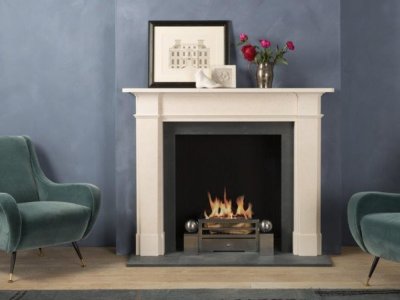 CONTEMPORARY FIREPLACE
Contemporary fireplaces are defined by their simplicity and clean lines. We would recommend any mirror from our contemporary section, which adhere to the same design ethos. For something a little different, you could also try the juxtaposition of one of our stunning Antiques.
Overmantels mirrors each come in a predetermined Standard Size. Most of our mirrors can be cut down in height to suit your available ceiling height. If, however, you require further adjustments, don't worry – we offer completely bespoke builds, and are able to customise your frame to any dimension you require, allowing you to craft a truly unique mirror for your space. 
Below are some guidelines you can follow to determine the correct size for your mirror, however do keep in mind that our Sales and Design team are always ready to help. If you would like assistance in determining the ideal size for your mirror, you can always take advantage of our Free Design Service.
HOW TO MEASURE
The diagram above shows a mantelpiece and the dimensions you will need to fit an Overmantel mirror above a fireplace. The fireplace shown consists of a mantel shelf and two pillars or uprights which hold up the shelf.
These guidelines only apply to mirrors where the frames fall vertically over the pillars of the fireplace. We have several standard sizes which fit over most average fireplaces. However, if nothing fits, we can custom make your mirror specifically for your space.
Obviously, in other positions such as above sideboards, radiator covers and other types of furniture, the dimensions of that particular piece of furniture will give some suggestions as to the size of the mirror above it.
You may just want to cover a large area of wall with a free hanging mirror, in which case we can make whatever size mirror you want to fill the space.
GUIDELINES
A) The maximum height of the mirror frame should be at least 5-10cm below a cornice, or 3-6cm below a picture rail.
B) If the mirror has feet that extend wider than the width of the mirror frame you must ensure that they do not extend past the end of the mantelpiece shelf.
C) The width of the glass should be greater than the 'site' or 'aperture' of the fireplace.
D) The uprights of the mirror frame should sit over the uprights of the mantelpiece and never be wider than them.
All our mirrors come with normal silvered mirror glass as standard. If you would like something a little special, you can select from the antique patina mirror options below. There are two main categories of antique mirror glass – machine made and handmade. Machine made glass has an even patina all over the surface of the glass, and is available in a handful of finishes. Handmade glass is made-to-order, and can be as heavy or as light as you like – the patina is applied more densely to the edges of the glass, imitating the way genuine antique glass foxes over time. You have the ability to add all sorts of delightful elements, such as a mercury sparkle or gold and bronze flecks.
Machine Made Antique Glass
Machine made glass has an even patina all over the surface of the glass, and is available in a handful of finishes.
Handmade Antique Glass
Handmade glass is made-to-order, and can be as heavy or as light as you like – the patina is applied more densely to the edges of the glass, immitating the way genuine antique glass foxes over time. You have the ability to add all sorts of delightful elements, such as a mercury sparkle or gold and bronze flecks.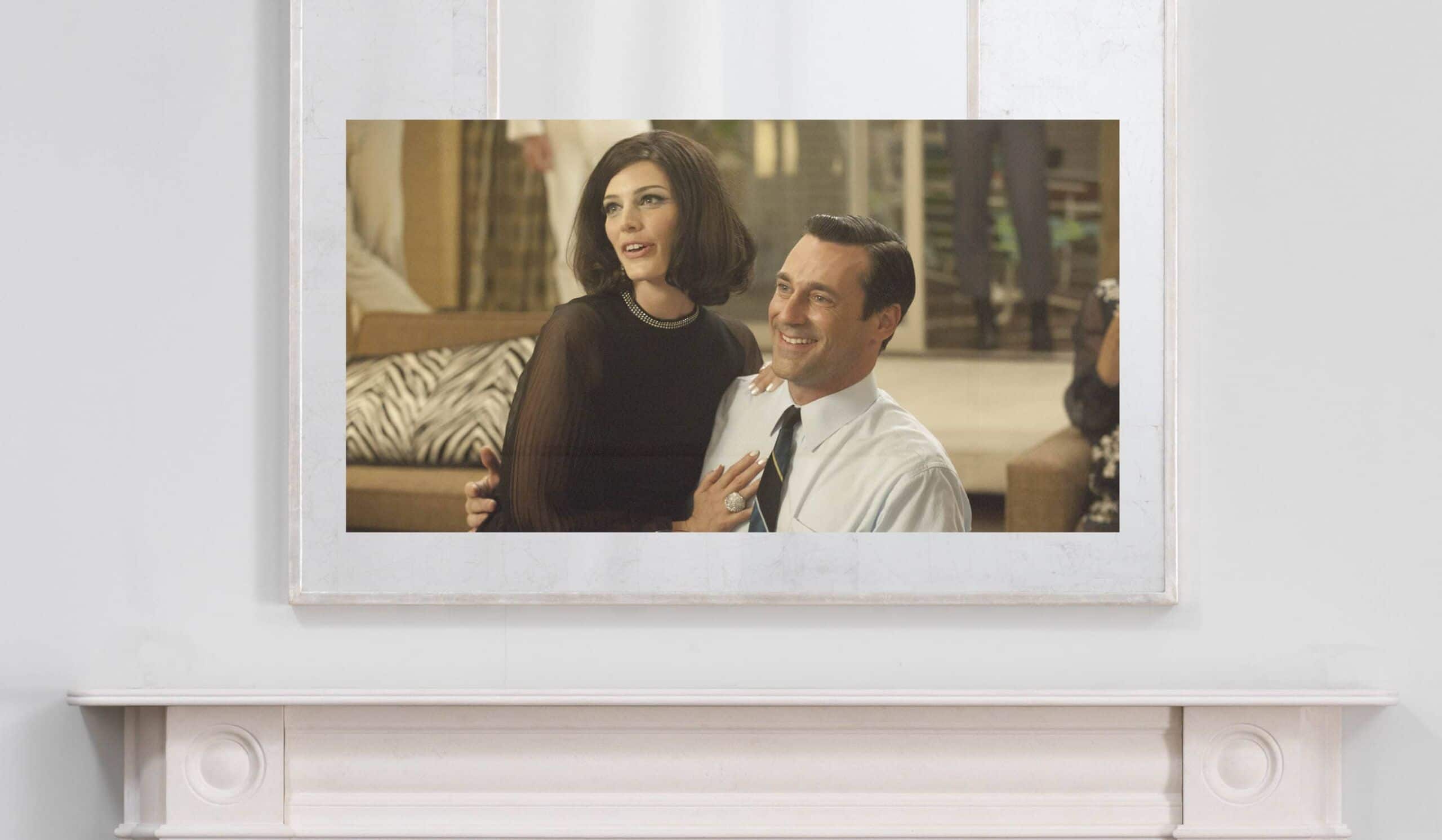 AVAILABLE OPTIONS
All of Overmantels' Mirrors can be made to fit any size TV, from the smallest 22", to the most impressive 100". Our standard range features mirrors that fit up to a 50" size. If the TV size you require is larger than the standard frame allows, simply fill in one of our quote requests and wait to hear from one of our team.
We strongly recommend Samsung TVs, which we can source through our AV Partners, G.S.L. Installations. The GSL team tackle our clients cable chasing needs, sound requirements and Audio Visual Supply.
They supply their TVs with a standard 5 Year Warranty, and include delivery to our Workshop in their price. Please find their latest price list below.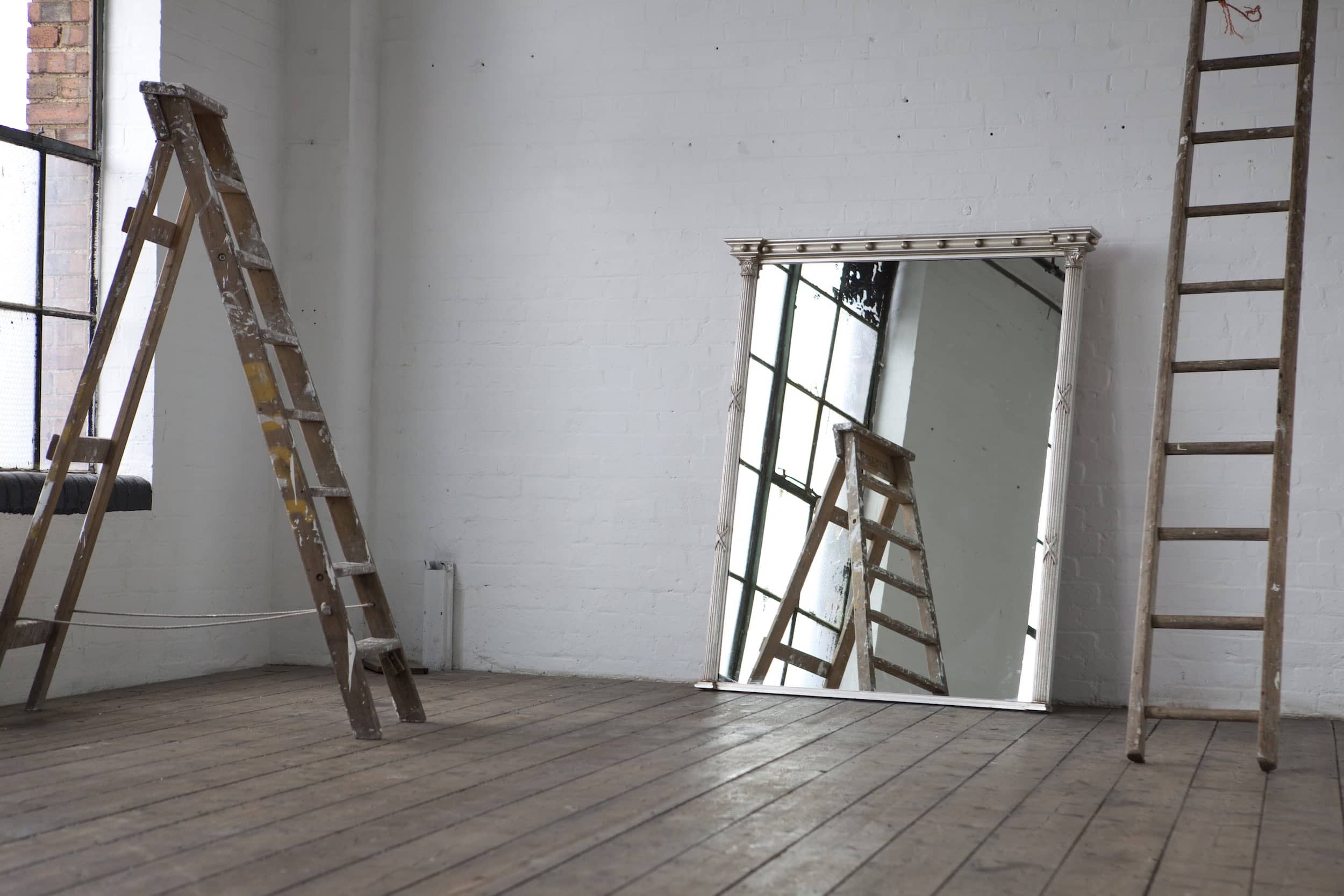 WHITE GLOVE SERVICE
For our TV Mirrors we offer Nationwide Installation and Delivery, Local installation and delivery offered within M25 for our Standard Mirrors.
Our Installation team will contact you leading up to your completion date, providing you a one hour time frame on the day of your choosing.
The team will advise you of the installation time, usually between 1 – 3 hours depending on the size and location of the mirror.
FREQUENTLY ASKED QUESTIONS ABOUT TV MIRRORS
Q) Do TV Mirrors affect the picture quality?
The TV Mirror glass does not affect clarity, brightness or resolution of the television picture. HD, 4K, 8K and 3D formats are unaffected. We recommend the more recent high series QLED models of Samsung due to their super dynamic screens and ultra-slim design. TV viewing from acute side angles may have some light distortion, so this is not an ideal viewing position. Keep the lights dimmed for the ultimate cinema-style experience.
Q) How good is the sound quality of a TV Mirror?
The frames have inbuilt ventilation, which releases the sound from behind the mirror. In small rooms, the inbuilt TV speakers are usually sufficient. In larger spaces, external sound systems are recommended for a movie-like experience. Many AV solutions are available, including Bluetooth soundbars which can be easily and wirelessly connected.
Q) What devices can I connect to my TV Mirror?
All and any devices can be connected to the TV Mirror with the appropriate wiring. Just ask your electrician to include an HDMI cable – you can run multiple cables or use a splitter to connect more than one device. You can still use your Sky, Virgin Media, DVD Players, and even PlayStations and XBoxes for the kids!
Q) What size of TV will fit inside a TV Mirror?
Almost any TV size is possible! We have made TV Mirrors from 19" to 88" sets but we can even go larger. Our Standard Size frames fit TVs from 32" – 55" depending on the style selected but, more importantly, we can tailor any of our mirrors to suit your space or required TV size. Contact us with your wall or fireplace measurements and we can advise the best frame fit and what size TV that frame will accommodate. The most economical and expedient option is to select from our standard mirror ranges, which typically fit a TV up to 50" (and often larger).
Q) Does the TV Mirror provided include the TV?
No, the TV is purchased separately. You choose the TV you want and we will build you a custom frame that will be tailor-made specifically to fit your model. We want you to have the widest market choice available for your slim-line LED TV hence we have only a few selection criteria – see below.
Q) Which TV's can be used inside Overmantels TV Mirrors?
Our TV mirrors work with most modern thin screen LED TVs but we do have a few simple requirements:
• We can only work with LED TVs – not plasma as it emits too much heat.
• It must be thin – for a flush-to-the-wall fit.
• No protruding parts – there should not be a big depth gap between the TV screen and the surrounding 'bezel' edge nor a protruding name badge etc.
Q) Can I use my existing TV in a TV Mirror?
Perhaps – please see the answer above. If it meets these simple requirements then it should be no problem. If in doubt, contact us!
Q) Do you have any TV recommendations?
Samsung remains the brand leader in the smart LED TV market on basis of excellent screen quality and functionality. We also work with other leading brands, such as Panasonic, Sony and LG. The models are updated regularly so it is best to check with us for the latest recommendations.