Our guiding philosophy is to continue the British tradition of mirror craftsmanship
Overmantels mirrors are lovingly handmade in our London mirror shop to an exacting standard, specialising in exquisite reproductions of traditional styles from the early 17th to late 19th Centuries. Tradition may be at the heart of what we do, but we continue to innovate.
Our stunning TV mirrors blend traditional craft with the realities of modern living – allowing your TV to be integrated into any of our beautifully crafted Overmantle mirrors, both traditional and contemporary.
TV MIRRORS
OUR UNIQUE TV MIRROR GLASS ALLOWS US TO INTEGRATE YOUR TV SEAMLESSLY INTO OUR ENTIRE RANGE.
OVERMANTEL
MIRRORS
Our overmantel mirrors are our most popular styles. Simple and highly elegant, these mirrors are designed to rest on the mantelpiece.
all our mantlepiece mirrors are
bespoke-made
IT'S WHAT MAKES US THAT EXTRA 
BIT SPECIAL AND WE'RE REALLY 
RATHER PROUD OF IT…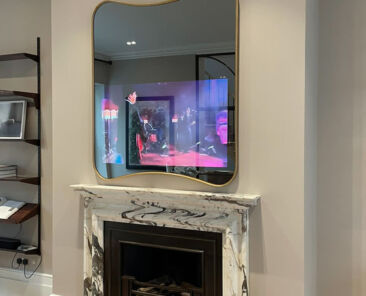 4 UlTRA MODERN MIRROR IDEAS  For effortless contemporary luxury style, here are our top mirror styles for an elegant modern…
LATEST NEWS FROM THE OVERMANTELS TEAM
WIDE RANGE OF MIRRORS AVAILABLE
Overmantels is one of London's best mirror shop destinations. We specialise in traditional, contemporary, antique and bespoke mirrors. Whatever size, finish or style you're looking for to complement your space, we're confident you can find it within our range. Whether you're searching for a Georgian period mirror to place above your mantlepiece or a contemporary style mirror, our extensive range has the perfect mirror to suit your home.
We recognise that no two homes are alike, and we can work closely with you to create the perfect piece for your home. We can design and make our mirrors to order, ensuring they're tailored to suit your taste and space. For more information about creating a bespoke mirror for your home, please get in touch.
As well as providing stunning traditional mirrors, we also handmake TV mirrors. An innovative way to conceal your flat screen television within a stylish frame which enhances any room. Our designs are curated by a team of skilled artisans, ensuring they are not only functional but also beautiful.
We offer an amazing Free Design Service that allows you to see how different styles of mirrors would look in your space. You can 'try on' our different designs to ensure you find the one which fits in with your home aesthetic.
In this complimentary service, we use Photoshop to superimpose our mirror designs into a photo of your space, allowing you to truly picture how each one will look in real life. This takes the guesswork out of the process and ensures you find the right size and style for your home!
Overmantels offer more than just mirrors; we offer a complete bespoke design service. Using our extensive experience in the field, we can help you create the mirror of your dreams that perfectly complements your room. Overmantels has experts who are ready to help you every step of the way.
We have been creating quality bespoke mirrors and selling antique mirrors from our studio in London for over 3 decades. Our handcrafted mirrors are all manufactured in the United Kingdom by our team of talented craftsmen and artisans. We take great pride in the quality of our products, so that you can enjoy them in your home or business.
To start your process, take a look through our range of mirror styles. You can select from our Standard Sizes, or choose 'Bespoke Size' for a custom mirror tailored to your space, as well as whether you would like a normal mirror or a TV Mirror. We will shortly then contact you with your personalised quote. During this process, you can also select which of our various finishes you would prefer. For TV Mirrors, we will advise on which size and model of TV would be appropriate for your mirror. We also help advise and quote for installation, including any cabling required, before proceeding with construction.