KITCHEN TV MIRROR IDEAS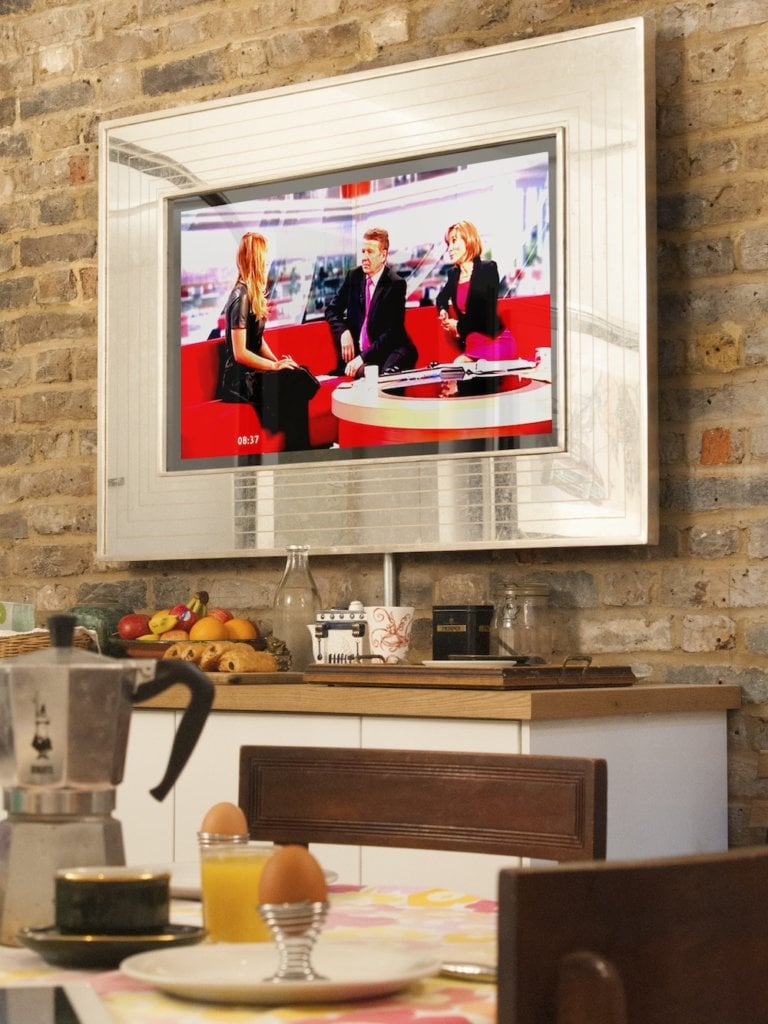 In the middle of a kitchen extension, renovation or just redecorating your kitchen? Sometimes it's tricky to decide what to place on the kitchen walls. A still life painting, modern wall art, shelving, rustic plates or copper pans on the wall, incorporating wall decor is not an easy decision. A TV mirror can be the perfect combination of practicality and aesthetics and Overmantels, we have a wide range of styles, from modern to traditional. Here are 7 reasons why you should decorate your kitchen with a TV mirror: 
A 

TV mirror 

is a great way to start your day: Switching on the news first thing in the morning is a great way to stay informed and catch the morning headlines with a cup of tea or coffee. For early risers, you can watch your favourite Youtube workout, Joe Wicks or a mindful yoga class to kick start the morning.

 
Recipes on full screen: For the keen cooks out there and budding Nigella Lawsons or Gordon Ramsays, having a recipe on a large screen is a really practical hands-free solution. Alternatively, you might prefer to watch your culinary heroes cooking shows while you are in the kitchen to get the creative juices flowing.
Entertaining the guests: For background music at a dinner party, or after dinner dancing, play your dinner party playlist in the kitchen while you entertain!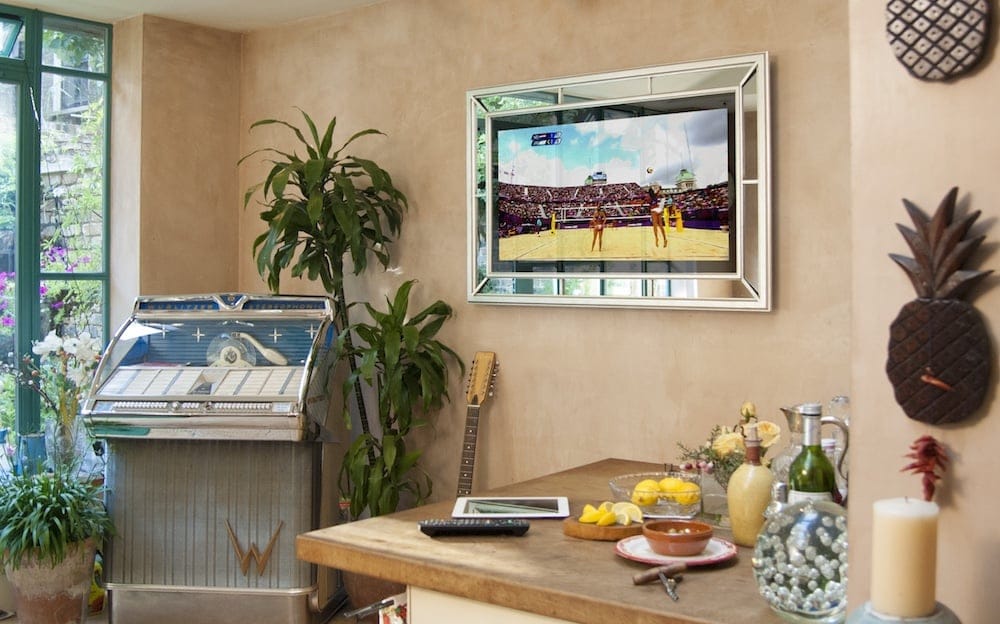 TV mirrors

are perfect hybrids: For those who can't decide between aesthetics and practicality, a TV mirror is an ideal solution. TV on it is your morning news, cookery show or background music. TV off is a beautiful complimentary piece of decoration for your kitchen.

 
Mirrors 

maximise light and space: Mirrors are a great way to increase the lighting- it bounces light off the walls, from windows and skylights and also increases the feeling of space and depth of the room. For smaller kitchens and larger kitchen sizes alike, it's a perfect and practical way to maximise the space!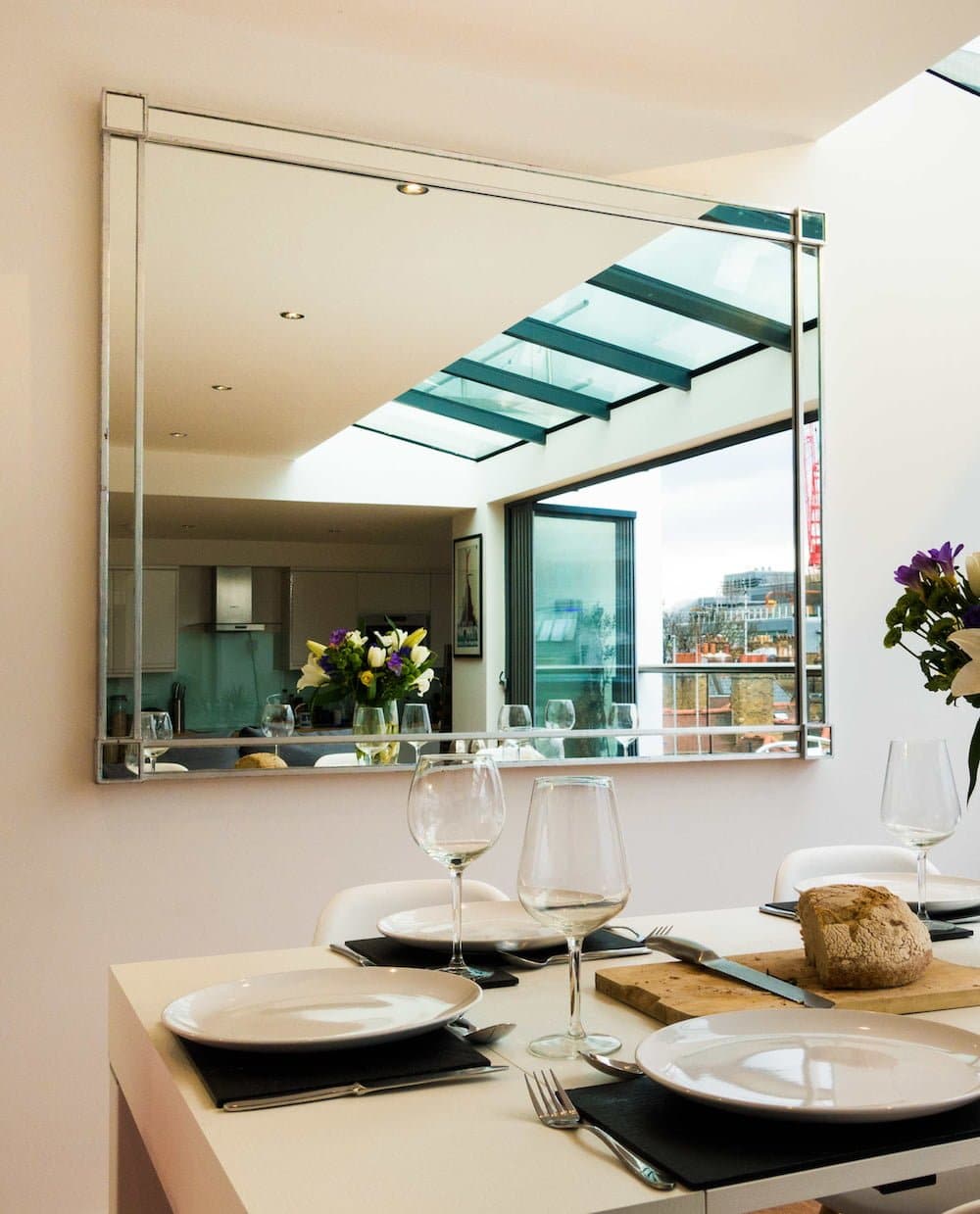 A 

TV mirror

suits any style of kitchen: A mirror is a versatile piece of decorative art. So if you are going for a more rustic style, an English or French style or Antique-style could really compliment the design of the kitchen. For a modern contemporary space, an

Art Deco style

 or Modern Mirror would is a great idea, from brushed brass metal frames to the clean lines of our 

AD3 Panel mirror.

 Overmantels also can make TV mirrors bespoke to any design spec so you achieve the perfect fit and style for your home.
TV mirrors

are statement pieces: If you are renovating a kitchen or giving it a little update, a TV mirror is a real showstopper! It is guaranteed to give that wow factor to your space and will totally impress your guests!